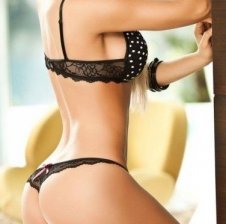 GreyMillan
Questa modella è
Online
Offline
21, Gemelli, Colombia, Colombia
Ultimo Accesso:
09/07/20 00.03.34
Invia Mancia
Fan Boost
Fai salire una modella al 1° posto
Premendo il tasto, farai sì che la modella GreyMillan raggiunga per 60 secondi la prima posizione nella pagina principale. Durante questo periodo, la chat room della modella diventerà più visibile e incredibilmente popolare! Una notifica in merito alla tua azione apparirà all'interno della chat, visibile alla modella e a tutti gli altri utenti della chat. GreyMillan apprezzerà certamente questo gesto e te ne sarà immensamente grata!
Solamente gli utenti Premium possono sfruttare al meglio questa funzione:
SAPPHIRE - 1 time every 7 days.
TITAN - 1 time every 3 days.
DIAMOND – 1 volta ogni 24 ore.
EXCLUSIVE – 3 volte ogni 24 ore.
Dettagli importanti di GreyMillan
| | |
| --- | --- |
| Sesso | Femmina |
| Preferenza sessuale | Bisessuali |
| Età | 21 |
| Altezza | >5'4" - 5'6" [160cm - 170cm] |
| Peso | 120 - 140 lbs [55 - 60 kg] |
| Capelli | Bionde |
| Occhi | Marroni |
| Etnia | Latina/Ispanica |
| Lingue | Spagnolo |
| Città di provenienza | Colombia |
| Peli pubici | Rasata |
| Seno | Taglia M |
| Culo | Taglia M |
Cosa mi fa arrapare
Youll always see me with a big smile on my face and sexy mu
Chi sono
Youll always see me with a big smile on my face and sexy mu
Cosa non mi piace
Youll always see me with a big smile on my face and sexy mu
Cosa facciamo nella webcam
Ore lavorative di GreyMillan
| | |
| --- | --- |
| Lunedì | 15.00 – 15.00 |
| Martedì | 15.00 – 21.00 |
| Mercoledì | 15.00 – 21.00 |
| Giovedì | 15.00 – 21.00 |
| Venerdì | 15.00 – 21.00 |
| Sabato | 15.00 – 21.00 |
| Domenica | non lavorative |
About me
At age 21, I have blossomed into confident and caring woman. I'm an ambivert, and my mood reflects the energy around me. I'm equally content flaunting my moves at a dance club or debating philosophy over a class of champagne. I adore the outdoors, and hiking up mountains and rock climbing keeps my body in shape. Nothing is more humbling than being surrounded by vast breathtaking landscapes and sleeping under the stars.
My curiosity has evolved me into a deeply intellectual lady. I have degrees in computer science and linguistics from an esteemed university, and as a lover of humanity, I know a good deal about anthropology as well. Nothing is more exciting than getting absorbed in deep conversation. As we exchange ideas, our minds grow and our connection deepens.
Beyond my curiosity and intelligence, my defining characteristic is my empathy.
I have a gift and a craving for human connection. Strangers tell me repeatedly that they feel more comfortable with me than some of their closest friends. I possess an open mind an unrelenting optimism that drives me to discover and appreciate the best in everyone. Humanity is beautiful and complex, and more than anything I strive to understand you, appreciate you, and nourish the burgeoning connection between us. As an experienced partner dancer, I understand the power of touch, which can heighten this connection to electrifying levels.
Clip amatoriali di GreyMillan
Lista Desideri di GreyMillan
Top Tippers 💲

#1 Jesucala11
#2 giuly45
#3 marcsol
#4 pingo72
#5 H3isenberg
#6 RLewis60
#7 tabesth196
#8 GQasaurusrex
#9 Andre1963
Ideal man for me!
For guys, I don't really have a type. Looking back at all the guys I've been with, I can see that they have all been pretty diverse people. However I am more attracted to certain qualities:
Height: Now, I'm not saying that you need to be taller than a tree, but at least taller than me.
Smart: Again, no need for exaggerations. In no way does a guy have to be a genius, but some intelligence is quite attractive. At least be able to hold a decent conversation.
Compassion: Be kind and respectful. If you're an asshole there's no way in hell I'm going near you; I've had too many bad experiences.
Funny: I tend to fall for guys who have a sense of humor and can make me laugh.
Favorite flowers